Are you in search of a budget-friendly shared hosting provider that offers excellent speed and performance? Look no further than Hostinger! In this comprehensive review, we'll dive deep into the world of Hostinger, one of the most affordable shared hosting providers on the market today. We'll examine its speed, performance, and even compare it to other top players like SiteGround, GoDaddy, Bluehost, and HostGator. By the end of this article, you'll have all the information you need to decide if Hostinger is the right choice for your hosting needs.
1. Introduction to Hostinger
Hostinger is renowned for its pocket-friendly hosting plans, making it an attractive option for individuals and businesses on a budget. But is affordability the only thing it has going for it? Let's explore further.
1.1 Hosting Plans
Hostinger offers a range of shared hosting plans: Single Shared, Premium Shared, and Business Shared. While they prominently promote the Premium Shared plan, you can get the best discounts with the Single Shared plan by opting for the 48-month commitment. This commitment ensures you lock in the lowest prices, which can be a drawback for those seeking month-to-month flexibility. However, even with this longer commitment, Hostinger remains cost-effective when compared to many competitors.
Must Read: How To Make A Website With WordPress in 5 Steps
1.2 Payment Options
One standout feature of Hostinger is its flexibility in payment methods. You can pay via Alipay or even cryptocurrency, catering to a diverse range of users.
1.3 Backup Services
It's worth noting that Single Shared and Premium Shared plans come with weekly backups, while daily backups are exclusive to the Business Shared plan. Adding daily backups to other plans is possible, albeit for an additional fee. Hostinger's pricing remains competitive, even with these add-ons.
2. Data Centers Around the World
Hostinger takes a global approach with multiple data centers worldwide. Unlike some competitors that confine their data centers to the United States, Hostinger offers more flexibility. You can switch data centers within your hosting dashboard every 30 days, free of charge. This feature is a boon for users looking to optimize their website's performance for different regions.
3. Speed and Performance
Hostinger's speed and performance are where it truly shines. The company employs cutting-edge LiteSpeed server technology to enhance website load times. To put Hostinger to the test, we compared it with other hosting giants like GoDaddy, Bluehost, SiteGround, and others.
3.1 Test Results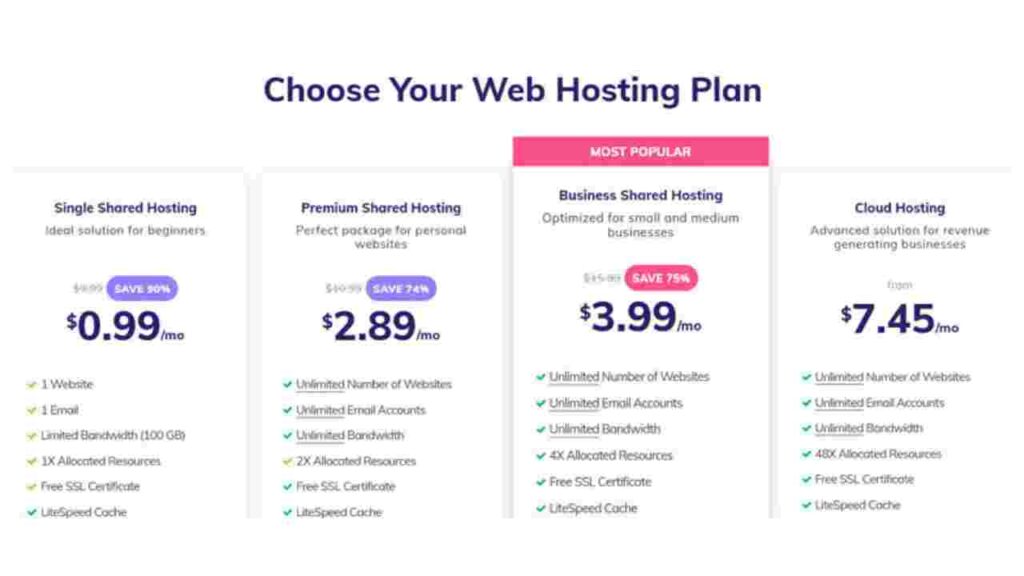 Single Shared Plan: Hostinger clocked in at around 2 seconds, a competitive performance.
Premium Shared Plan: Hostinger outperformed its peers with a speedy 1.1-second average load time.
Business Shared Plan: While slightly lower than the Premium plan at 1.06 seconds on average, it still ranks as an excellent option.
In summary, Hostinger not only offers affordability but also boasts impressive speed among shared hosting providers in its price range.
Must Read: 10 Essential SEO WordPress Plugins for Top Rankings
4. User-Friendly Dashboard
Hostinger has shifted away from cPanel, introducing its own hPanel dashboard. This decision has resulted in a more intuitive and user-friendly experience, especially for beginners.
4.1 Features
Ease of Navigation: Hostinger's dashboard simplifies account management, including hosting, emails, domains, and SSL certificates.
Email Setup: Creating and managing email accounts is a breeze, with straightforward steps.
Domain Management: Purchasing and transferring domains is made easy, though prices may not be as competitive as specialized domain registrars like Namecheap.
SSL Installation: Hostinger offers a lifetime SSL certificate and simplified installation procedures.
5. Support and Priority Chat
Hostinger's customer support is generally reliable, with two primary contact options: email and live chat. While email support may have slightly longer response times, the live chat support stands out.
5.1 Priority Chat Support
For users seeking rapid assistance, Hostinger provides a unique feature – Priority Chat Support. For a nominal monthly fee (around $2.15), you gain priority access to support agents, significantly reducing wait times.
Hostinger vs. Bluehost vs. SiteGround: Which Hosting Provider Reigns Supreme?
In the digital age, having a reliable web hosting provider can make or break your online presence. If you're in the market for web hosting, chances are you've come across three major players: Hostinger, Bluehost, and SiteGround. Each of these hosting companies offers a range of features and services, but which one is truly the best? In this comprehensive comparison, we'll delve deep into the intricacies of each hosting provider to help you make an informed decision.
Hostinger Review: Unveiling the Hosting Gem
Overview:
Price Range: Affordable
Performance: Impressive
Customer Support: Reliable
Hostinger has been gaining significant traction in the web hosting industry, and for good reason. Their commitment to providing fast, reliable, and cost-effective hosting services has earned them a solid reputation among website owners.
Performance and Speed:
Hostinger's servers are optimized for speed, ensuring that your website loads quickly and efficiently. This is crucial for both user experience and SEO, as Google favors fast-loading websites in its rankings.
User-Friendly Control Panel:
One of Hostinger's standout features is its intuitive control panel, making it easy for beginners to navigate and manage their websites. Even if you're new to web hosting, you'll find Hostinger's platform user-friendly.
WordPress Integration:
If you're a fan of WordPress, Hostinger is an excellent choice. They offer one-click WordPress installations, making it incredibly easy to get your WordPress site up and running.
Customer Support:
Hostinger boasts a responsive customer support team that's available 24/7. Their live chat support, in particular, is efficient and helpful.
Pricing:
Hostinger's pricing is budget-friendly, making it an ideal choice for individuals and small businesses looking to establish an online presence without breaking the bank.
Conclusion:
Hostinger's combination of affordability, speed, and excellent customer support makes it a strong contender in the web hosting arena.
Bluehost: The Hosting Giant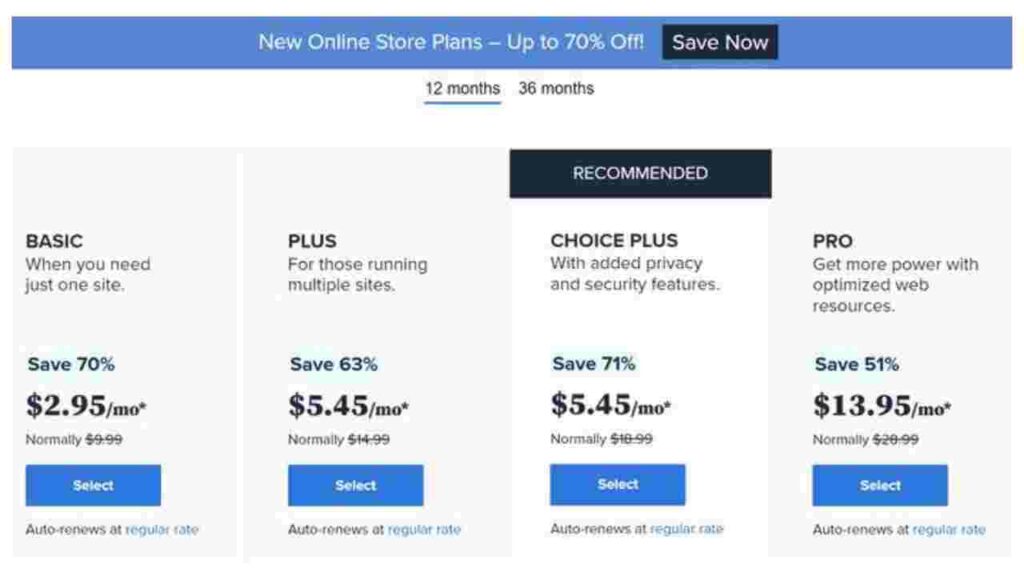 Overview:
Price Range: Moderate
Performance: Reliable
Customer Support: Adequate
Bluehost has been a prominent name in web hosting for years and is often recommended by WordPress.org. While it may not be the cheapest option, it offers a range of features and services.
Performance and Speed:
Bluehost provides stable performance and reasonable speed, ensuring your website stays online and accessible.
WordPress Integration:
Bluehost is known for its seamless WordPress integration, offering features like one-click WordPress installations and automatic updates.
Customer Support:
While Bluehost's customer support is decent, some users have reported longer response times compared to other hosting providers.
Pricing:
Bluehost falls into the mid-range category in terms of pricing. While not the most affordable, it offers good value for the features provided.
Conclusion:
Bluehost's long-standing reputation and strong WordPress integration make it a suitable choice for those who prioritize reliability.
SiteGround: The Premium Option
Overview:
Price Range: Premium
Performance: Exceptional
Customer Support: Outstanding
SiteGround is synonymous with top-tier performance and exceptional customer support. It's a premium hosting provider with a price tag to match.
Performance and Speed:
SiteGround's performance and speed are unparalleled in the industry. With advanced caching techniques and SSD storage, your website will fly.
User-Friendly Control Panel:
Their custom control panel is both powerful and user-friendly, catering to both beginners and experienced users.
WordPress Integration:
SiteGround offers robust WordPress hosting with features like automatic updates and free WordPress migration.
Customer Support:
SiteGround's customer support is a shining example of excellence. Their knowledgeable and responsive support team is available around the clock.
Pricing:
While SiteGround may be pricier than other options, the exceptional performance and support justify the investment.
Conclusion:
SiteGround is the go-to choice for those who demand top-notch performance and exceptional customer service, even if it comes at a premium.
| Feature | Hostinger | Bluehost | SiteGround |
| --- | --- | --- | --- |
| Pricing | Affordable | Moderate | Premium |
| Performance | Impressive | Reliable | Exceptional |
| User-Friendly Control | Yes | Yes | Yes |
| WordPress Integration | Yes | Yes | Yes |
| Customer Support | Reliable 24/7 | Adequate | Outstanding |
| Hosting Types Available | Shared, Cloud, VPS | Shared, WordPress, VPS | Shared, Cloud, Dedicated |
| Speed | Fast Loading | Reasonable | Excellent |
| Control Panel | User-Friendly | User-Friendly | Custom Control Panel |
| Free Domain | Yes (Premium Plan) | Yes (First Year) | No |
Making Your Decision
In the Hostinger vs. Bluehost vs. SiteGround showdown, the best hosting provider for you ultimately depends on your specific needs and budget.
If you're on a tight budget and seek affordability without sacrificing quality, Hostinger is a compelling choice.
If you value reliability and WordPress compatibility, Bluehost is a solid option, particularly for WordPress enthusiasts.
If you prioritize exceptional performance, top-tier customer support, and are willing to invest in your online presence, SiteGround is the clear winner.
Remember that choosing the right hosting provider is a crucial step in your online journey. Consider your website's requirements, your budget, and your long-term goals when making your decision. With the right hosting partner, your website can soar to new heights and leave your competition in the digital dust.
In conclusion, the decision between Hostinger, Bluehost, and SiteGround should be based on your unique needs and preferences. Each hosting provider has its strengths, so take your time to assess which one aligns best with your goals and resources.
To explore further, visit the respective websites of Hostinger, Bluehost, and SiteGround to get more detailed information on their plans and features. Your website's success starts with choosing the right hosting partner, so choose wisely.
---
FAQs
Is Hostinger suitable for e-commerce websites?
Absolutely! Hostinger offers hosting plans that can accommodate e-commerce websites. The Premium Shared and Business Shared plans, with their enhanced performance and features, are particularly well-suited for online stores.
Can I switch data centers with Hostinger?
Yes, Hostinger allows you to change data centers within your hosting dashboard every 30 days for free. This flexibility is especially valuable if your website's audience is spread across different regions.
Is the Priority Chat Support feature worth the additional cost?
If you value prompt customer support and quicker issue resolution, the Priority Chat Support feature is definitely worth considering. For a small monthly fee, you'll have faster access to support agents.
Can I host multiple websites on a single Hostinger plan?
Yes, you can host multiple websites on a single Hostinger plan, depending on the plan's specifications. Be sure to choose a plan that suits your needs and check its resource allocation to ensure it can handle your websites effectively.
What makes Hostinger stand out from other budget-friendly hosting providers?
Hostinger distinguishes itself through its competitive pricing, impressive website speed, and a user-friendly dashboard. Additionally, the option to change data centers and the availability of Priority Chat Support make it a compelling choice in the budget hosting niche.
Is Hostinger suitable for WordPress websites?
Hostinger offers optimized WordPress hosting plans, making it an excellent choice for WordPress users.
Can I transfer my website to Hostinger for free?
Yes, Hostinger provides free website migration services, making it hassle-free to move your website to their platform.
---