Hey everyone, I'm going to be sharing with you 10 proven ways to make money online. Now I'm actually really excited to be putting this post together, because I'm often asked what I do for work, and when I tell people that I make money online, there's a little bit of a confusion there. No one quite understands what that means.
So in this post, I'm going to go through 10 ways that I have made money online. These are either ways that I have personally done
for a little bit of time and I've advanced into some of the more complicated ways of making money online. But all of it's going to be in this post. If you're someone who is remotely interested in making money online, you just wanna understand what it is or things that total beginners could start doing and even what advanced people are likely doing,
Must Read: Best 20 Free AI Tools to Boost Your Productivity and Skyrocket Your Success
this post going to cover all of that. So the way that this post going to be laid out is there's going to be 10 different online business models that you can do. I'm going to start out with the total beginner business models that anyone can really start doing today and I'll move on into some of the more advanced ones that I'm currently doing myself.
Now what's going to make this post special is, throughout this post, I'm just going to treat it as if I'm sitting down with family and I'm explaining what I do for work or advising them on how to make money online.
So on the receiving side of this, I hope you guys really appreciate that. I'm just going to be straightforward, total honesty, as I usually do in my post anyways. So without further ado, let's get into this list of 10. I'm going to cover three things for each item on this list:
The first is the overview of what that business is or how it really works.
Second is the costs involved, how much it's going to cost you to do this business, to start it and to run it.
And then lastly is the earnings potential, how much you could make from each of these different businesses.
1. Sell Clothes Online
So the very first way to make money online for a total beginner is to sell your clothes online. Now this is one of the easiest ways that you can make money online, because we all have clothes and we have clothes that we no longer wear. Now I've done this in the past, just selling clothes that I don't wear anymore.
Collared shirts, shorts, you name it. They are buying basically everything. To name a couple of the different websites that you can look up, there is Poshmark, there is the RealReal, there's thredUP, there's Tradesy. And then for those of you who don't even want to do this online, you can take your clothes to in-person stores like Plato's Closet and several others, and they'll give you a quote for your clothes, and literally give you cash, and you walk out with that.
They get to re-sell your clothes. Now as far as selling clothes goes, there are no costs here. You don't have to pay anything upfront to get started. You should have all of your inventory or anything that you're selling just in your closet, and the earnings potential here is pretty small. You're not going to make life-changing income with this, but it is a way to start making money with things that are just
sitting in your closet.
If you have clothes or other used items that you no longer need, selling them online can be a quick and easy way to make money. Start by listing your clothes on popular platforms like Poshmark, the RealReal, thredUP, Tradesy, and watch the sales roll in.
2. Sell Stuff Online
This can be either locally or it can be totally anywhere in the country, probably in the world if you're willing to ship it, but using websites like Facebook Marketplace or selling on eBay or Craigslist, and you would really be surprised at how much people are willing to buy things used and how much they're willing
to pay on websites like these.
Now, again, for those of you who don't want to do this online and you just wanna do this in person, you can always go to pawn shops. You can take your items there. They'll just give you a quote. You can even negotiate with them to try to get more for your items. It's kind of a fun thing to do if you just have things laying around that you know are worth a little bit of money.
And then again, you literally walk out the door with cash in your hand and they get to re-sell your item and they try to make a profit on it. Now as far as costs go on this one, again, totally free, you shouldn't have to pay for anything here and the earnings potential is going to be low again.
You're not going to make crazy income with this, but it's just extra money that you can be generating.
This is another total beginner way to make money online, and this is selling your stuff online. So not just clothes, but anything that you have. There are a ton of platforms out there that you can sell your used items online.
3. Sell Photos Online
I'm excited to share it with you. So this third one is selling your photos online. Now, if you look this up and you see it on any of the lists of how to make money online, it's likely going to be called "selling stock photos or stock videos online."
And essentially how this works is, if you are traveling or if you have photos that are pretty generic, but that other people would want, photos of mountains or photos of different things that don't have you in it,
something that's not really personalized, then companies or other people that are running advertisements and need those kind of photos are willing to pay for those photos, so that they have the rights and they can use them in their content.
Now there's two reasons why this is such a good business model to make money online.
The first one is that there are so many different websites out there that you can sell your photos on. They are basically their own marketplace. So you just upload your photos, they will get their own buyers, their own traffic to see all those photos and purchase them without you having to do any marketing or advertising yourself.
Now the second reason that this is such a good business model right now is, because all of the cameras that are on these smartphones nowadays are good enough to do this business.
So you don't need to go out and buy a camera. You can simply use your phone's camera to take the photos. Even when it comes to
selling stock videos, these phones can film in 4K resolution, which is essentially Ultra HD.
So you won't have any issues selling those videos or photos on these websites when they're taken from your smartphone. Now with that being said, to give you a couple of these different websites that you can look up, there is Shutterstock, there is Adobe Stock, there is iStock, there's Getty Images, there's Alamy, there is Envato Elements, there is 123RF.
There are a ton of these. Now the costs involved for selling these stock photos or videos online are none. You don't have to pay for any equipment as long as you have a smartphone. You don't have to pay any memberships or anything to upload your photos or videos and sell them. Now the earnings potential for this is starting to to get more into the medium range.
I would again say that this is not going to be crazy, life-changing income. For some it may actually be, but it's not going to be
getting into the crazy amounts that you'll see in some of these later business models.
However, with that said, once you upload these photos to the websites, it is totally passive. Talk about passive income. You just upload the photos. You never have to deal with customer service or anything.
It's all done totally automatically and in the background for you. You just collect your paycheck every month or whenever the different
websites pay out.
Did you know that you can earn passive income by selling your photos and videos? With just your smartphone camera, you can capture high-quality visuals and upload them to websites like Shutterstock, Adobe Stock, iStock, and more. Let your creativity shine and start earning today!
4. Sell Digital Downloads on Etsy
Now there's two parts to this. There's selling digital downloads and there's Etsy.
So, first, let's start with Etsy, so we can get some background here. Etsy.com is a website basically built for people who are DIY building products and they wanna sell that to other people. It's something like an Amazon or an eBay, but with DIY, self-created products. Now Etsy gets a ton of traffic.
They get somewhere over 200 million people to their website every single month looking to make purchases. So that's the platform where we're going to be selling these digital downloads.
So now let's talk about what these digital downloads are. Well, the digital downloads are essentially like selling a stock photo online, except you're going to create a template or create a calendar, create an invitation, create some kind of template that you can sell to other people and then they can modify for their specific occasion.
So to give you a good example of this, you can go to a website like Canva, which is a graphic design tool, and they have tons of different templates. Now, if you went over to their wedding templates and you found a wedding invitation template, you could customize that and show what that invitation could look like, and then basically take a screenshot of that,
upload it onto Etsy, and then someone who is looking for that type of theme for their wedding invitations can purchase that from you. They give you what their names are, what the date of the wedding is, all of the information. And then once you receive the order, you go customize it on Canva and you send that file over to them.
Must Read: 8 Digital Products You Can Create and Sell – Digital Product Ideas!
Now once they receive that from you on Etsy, they are responsible to go print it and they are responsible to do all of the rest from there. You're just giving them the digital download. Now that is the most simple way to explain this one. However, just a sneak preview.
If you get a little bit more advanced with selling digital downloads, you can pay for software, it's about $20 per month, that gives the buyer on Etsy the ability to do all of the customization right then and there.
Then they can purchase the template from you without you having to go to Canva, and customize it, and send it back to them. This basically just streamlines the entire business and makes it passive income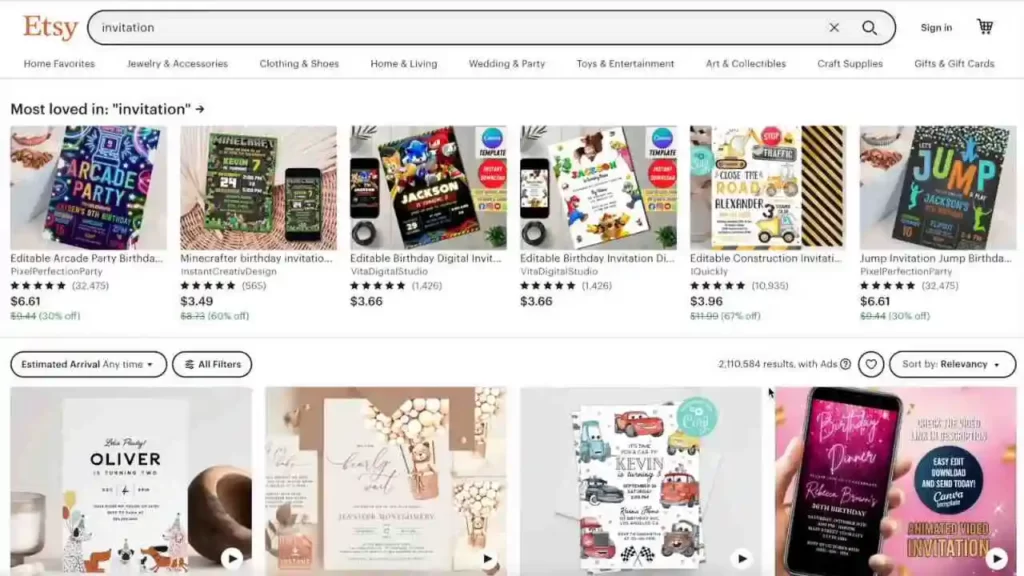 so you don't have to go customizing each customer's order with their name and information, and sending it to them. Now as far as costs go with selling digital downloads on Etsy, the costs are very minimal.
On Etsy, the listing fee is $0.20 per listing that you upload. So, if you upload 10 different listings, if you have wedding invitations, wedding RSVPs, wedding signage for the events, it's going to cost you $0.20 each. Now that's really your only cost here, because you don't have to pay for marketing or advertising with Etsy and using something like Canva to actually create the designs is totally free to use.
As I mentioned before, if you start getting more advanced in this one, there may be other software or tools that you'll have to start to pay for, but you don't have to start with the full, advanced version of this business. You can start out small and work your way up as you start making more money.
Now the earnings potential for this one actually starts to get pretty serious. So this one, I'm going to put in the medium to high category here, because I've seen some people making well over $1 million a year selling on Etsy with digital downloads.
Obviously, these people are in the more advanced category here where they're using the software that's all streamlined. However, there are so many buyers on Etsy that you really can make a lot of money from this, if you really put a lot of hard work in and you build this business up.
If you have a knack for design, creating digital templates and selling them on Etsy can generate passive income. Whether it's invitations, calendars, or planners, buyers can customize and print these templates themselves. Get creative and start monetizing your design skills!
5. Create Designs for Print-on-Demand Websites
This is one of my personal favorites. I've been doing it for years and I still currently do it, so I'm pretty excited to share this one with you. This one is selling print on demand items. As we were just talking about with selling digital downloads on Etsy.
This is roughly the same concept, except, instead of making the items yourself, you're having the company or the website you're selling it on do it all for you.
So the simplest way that I can explain this is with selling print on demand t-shirts. This is where I've done the bulk of my print on demand, and what most people tend to choose, so what you can do is there are several different print on demand t-shirt websites that you can create a design, whether that's on Canva, or for this more particularly, you're going to want to use something like Placeit.
They're both just designing softwares to create a design that'll go on a t-shirt. Now once you have this design, you upload it to the print on demand websites and it creates a virtual listing of what that design would look like on a t-shirt.
You can have it available in men's t-shirts, women's t-shirts, kids' t-shirts, all different colors, because none of it's actually printed yet. It's just a mock up or a virtual listing of what your design would look like on that item.
Now all of these different print on demand websites are just like Etsy where they all get their own traffic and their own buyers every single month. So the more of these designs that you can get uploaded onto virtual t-shirt listings, the more people are going to come and see them.
And once they see them, they might really like that design on that t-shirt and they wanna buy it for someone as a gift or buy it for themselves, they can simply purchase that t-shirt in whatever color, whatever size, whatever style that's on that virtual listing, and they pay for it right on the website.
Now once that website receives the order and the money, they go to their printing center and they get that specific shirt in that size and that color, and they print your design on it.
They ship that right out to the customer and they even deal with all of the customer service. They do it all for you. So if there's any refund requests, or returns, or exchanges, it's all done for you. As the seller, we don't even know about them.
Now the reason that I like this business model so much is, because, as the seller, we're only responsible for creating those designs and uploading them to the websites to create those virtual listings.
Literally, everything else is taken care of for us. We don't have to lift a finger, so it's totally passive. Now in addition to that, you would be amazed at how many people buy t-shirts online.
The industry is almost $5 billion in sales every single year. I know it doesn't seem like something that would make a ton of sales, but the more of these you put out there, you're going to see that a lot of people are buying t-shirts.
So with that said, some of these print on demand websites that you can look into are Amazon Merch on Demand, Redbubble, TeePublic, Zazzle. There are actually a bunch of them out there.
(Read More)
Now as far as costs involved to start print on demand, if you want to do this at a basic level, you can do everything entirely for free. You don't have to pay for anything. You just have to have a way to create those designs and then upload them to the websites.
Now adding more advanced level, you're probably going to want a couple different tools. They're ones that I've started to use over the years and the total cost for all of these tools is about $20 per month. There's no crazy upfront cost or anything like that and all of these tools are just month to month, so you don't have to sign up for any crazy contracts.
Must Read: 27 Best High Paying Affiliate Programs 2023
Now talking about earnings potential for print on demand, this is another one that's going to be in the medium to high category. Essentially, the more listings that you can put out there, the more sales you're going to see.
And these print on demand websites are non-exclusive, so you can upload your same design to multiple of these different websites and just get sales on all the different websites.
Now lastly, just so you're aware, the way that you make money from this and the print on demand websites make money from this without you paying them is, because you get a split of the profit from every sale, and so do they.
They get to cover their costs and they get to make money by taking a couple dollars out of every sale, and then you get the
rest of it for yourself. So every time you make a sale, you'll get roughly $2 to $10 from each one of these listings selling.
Designing t-shirts is a popular business model, and print-on-demand websites make it even easier. Use user-friendly software like Canva or Placeit to create eye-catching designs, and upload them to websites such as Amazon Merch, Redbubble, TeePublic, and Zazzle. Let the websites handle the manufacturing and shipping while you focus on earning!
6. Earn Money Online with Affiliate Marketing
This is partnering with companies to sell their products. Now, if you see this on a list or somewhere, you might see it referred to as affiliate marketing or selling affiliate products. You're essentially partnering with a company. They will give you a commission every time that you bring them a buyer.
Although this one can get pretty complex, this is totally one that any beginner could start and just start doing at a small level. So if you can think of any brands that you personally really like.
So think about what interests or what hobbies you have and what are the big brands or products that you use to do that. Then go on to Google and type in the company that sells that product, and then type in "referral program" or "affiliate program" after that name.
Now almost all companies out there, especially, if they're bigger companies, have an affiliate program. Now, essentially, they'll
have a page on their website that you can go to.
It'll tell you what percentage of each sale you will receive as a commission, and then it's totally free for you to sign up. So, by doing this, you're not an employee for the company.
You're basically a 1099 independent contractor. So it's like you're freelancing for the company with no strings attached. You have no quotas, you have no schedule, you have nothing that you have to abide by or are responsible for that you have to do for that company. However, they're going to give you a specific link that is yours.
This is a clickable link that you can text to people, you can share with people, you can post online, and when someone clicks that link, it'll redirect them right to the product or to the homepage of the company and they can go purchase the product totally the same as if they were to just go to that website on their own.
The cost will be the same for the person buying that product as if they were just going to the website and buying it themselves. The big difference here is that part of the company's profit on that sale will go to you for referring them a buyer. Now you may be wondering, how do you get people to use your link to buy things?
Well, as a beginner, you can do this in person. So let's say that you really like mountain biking and you go out to the trails, and you meet new people, and when you're talking to them, if they're interested in buying a new bike or they really like your bike, you could potentially be partnered with that company that sells the bike and you could text them a link, and just say, "Hey, if you're going to make a purchase of a bike, just use my link first.
I'll get a commission for it." When you are straight up and honest about this, people are really receptive, and you can just tell 'em it's not going to cost them anything extra. Now that would be the total beginner way to do this.
As you start to get more advanced, the ways that I would recommend for you to do this are to create your own website and write blog articles about that bike or different parts that are sold for that bike that are upgrades.
Must Read: Hostinger Black Friday 2023: Get Up to 83% Off on Hosting Plans
And you're still affiliate partnered with that company overall, so you'll get a commission on any product that they're purchasing.
If you can put together your own website and start writing these blog articles, they will then get ranked onto Google. So when someone's searching for that bike, they could be on the other side of the country or a different side of the world.
They could click your link in the article and then go over and make the purchase. And now you're essentially just getting a lot more people clicking your links as if you were at the trailhead talking to them and texting the link to them directly.
Now when it comes to the costs involved to start this affiliate marketing or partnering with different companies, the costs are zero, totally zero. Anyone can go apply for as many affiliate programs as you want to, with as many different companies as you want to totally for free.
Some of the companies, you will find, have a little bit stricter requirements to get accepted, but all of them are going to be free. You never have to pay to join an affiliate program.
Now, if you want to go down the more advanced route in this business and you wanna start your own website, and write those blog posts, then you are going to have costs associated with starting your own website and paying to keep that live on the Internet.
Now these costs can range anywhere from just a couple dollars a month, up to about $8.99 per month if you have the top of the line, cream of the crop website running.
| Hostinger | Single | Premium | Business | Cloud Startup |
| --- | --- | --- | --- | --- |
| Regular Pricing | $1.99 (₹69) /mo | $2.99 (₹149) /mo | $3.99 (₹269) /mo | $8.99 (₹699) /mo |
| Black Friday Pricing | $1.79 (₹62) /mo | $2.24 (₹116) /mo | $3.14 (₹224) /mo | $8.09 (₹629) /mo |
| Coupon Code | SHORTS | SHORTS | SHORTS | SHORTS |
| Deal Highlights | 84% OFF, 1 Website, 50 GB SSD | 83% OFF, 100 Sites, 100 GB SSD, Free Domain | 78% OFF, 100 Sites, 200 GB SSD, Free Domain, 5x Performance, Daily Backups | 68% OFF, 300 Sites, 200 GB SSD, Free Domain, 10x Performance, Daily Backups, Dedicated Server |
| Best For | Beginners | Money Value | Mid level websites | High Traffic Sites |
However, for most people, if you're going to start that advanced route, just start with the low end and just get your website live, and start putting some work in to see if that's a business that you can really follow through on.
Now when it comes to earnings potential for affiliate marketing, this one is definitely in the medium and high category. Again, there are several people that I know or I've talked to that are making well over $1 million a year just from affiliate marketing.
My biggest piece of advice for all of affiliate marketing is make sure that you're picking good products. If you are recommending products to people that are not good products, but you make a good commission on, you are just going to be burning other people, and that's going to come back to you eventually.
If, however, you are only recommending the products that are truly the best product there is in the entire category of products, even if they pay a small or a smaller commission,
I think, overall, you are going to do a lot better for yourself, because you have trust, and honesty, and integrity. So I highly urge you to spend your time picking the really good products, even if they have a smaller commission.
Affiliate marketing is a great way to make money by promoting products and earning a commission for each sale. Start by promoting products in person and sharing referral links. As you grow, create your own website and write blog articles to reach a larger audience. With the right strategy, you can earn medium to high amounts from affiliate marketing.
7. UserTesting
I'm going to go back to a slightly easier one that is a little bit less complicated just to give you another great idea on how you can make money online. So rather than partnering with companies to sell their products, you can simply just give companies your opinion. Now I'm not talking about paid online surveys. I don't recommend paid online surveys. Rather, I'm talking about specifically one website called usertesting.com.
Essentially, what usertesting.com is, is you can make a profile on their website and when companies want to know how a new feature would potentially be received by customers before they roll it out on their entire company at once and just gamble and see how people react, they do these user testing, online focus groups.
So once you have your online profile here, you will see different, I'm gonna call 'em "focus group" opportunities come through and you basically get $10 for every 20 minute review or focus group response that you give to these companies.
Now the big catch here is that a lot of these are screen recording, so they're companies putting out new features or new layouts on their website, and you basically have to do a task of, "Find this button and use it." "Click these things." And you have to basically figure out, was it easier or harder to do on the old website or on the new website?
And you screen record your computer and you basically just talk it through. "I don't like where that button is." "It seems too hard to find." "I'd rather it be bigger or over here in a different color." This is all the feedback that they are paying you for.
Now talking about the costs involved for this, it's totally free. You don't have to pay anything here. As long as you have a computer and Internet, you're good to go.
And as far as the earnings potential here, this is going to be another one that's definitely on the low end. It's just a nice way to make
some supplemental income, but it's not going to be life changing.
Now, specifically, I'm talking about selling courses on two different websites and I'll explain why. The first website is skillshare.com. The second website is udemy.com.
Now, essentially, the way to look at these two websites is they are a paid YouTube. It's the best way I can explain it. On YouTube, you create a video and people can watch it totally for free.
On Skillshare and Udemy, you create a more professional in-depth, longer form video, think somewhere between 30 minutes and two hours, and rather than people being able to watch that for free, they have to pay a small fee to watch the video.
Now what I love about these websites is that they get tons of traffic on their own. You don't have to do any marketing or advertising. People will just automatically find your course and if they're interested, they'll purchase it.
As the creator, it's pretty passive for you. Although you have to answer questions for students as they're going through the course, you simply get a split of the profit every time someone makes a purchase.
Now I know many of you may be thinking, "I don't know if I can make a course. What am I going to need for this?" Well, before we were talking about how good the quality is on smartphones.
So you can simply use the video feature on your smartphone, and then in some cases you may need your computer as well to walk people through certain things or to present PowerPoints or a slideshow.
So, if you can do the screen recording on your computer and the actual video on a smartphone, you're basically all set. You don't need to get very fancy with all this with expensive cameras or microphones.
Just getting your toes wet and putting a course out there, you may be surprised at how much money you make right off the bat. So speaking of the costs involved for this one, assuming that you have a smartphone or a camera to record yourself, any computer, if you need to present anything or screen record, you don't have to pay for anything.
Skillshare and Udemy for the creators or the person uploading the course is totally for free. The way that they make their money is they get a split of the profit for each of your sales.
Now when it comes to earnings potential for these, this can be through the roof. Again, this is a category where people are making
well over $1 million a year just from these websites.
You can upload as many courses as you want. The first one's probably going to be the hardest one for you, learning how everything works and getting used to being on camera.
But once you've done that first one, you can start to make a lot of money, if you keep uploading different courses and you just get them all published onto these websites.
If you have expertise in a certain field, creating and selling online courses can be a lucrative business model. Platforms like Skillshare and Udemy allow you to create in-depth, professional videos and charge a fee for access. With high traffic on these platforms, you can earn a significant income from course sales.
9. Publish an eBook on Amazon KDP
This is one that is very straightforward, a lot easier to do, and this is selling an Amazon KDP eBook. Now what Amazon KDP is, is Amazon Kindle Direct Publishing.
So, essentially, you can write a book yourself, whether that is fiction or non-fiction, you type it all up on your computer, and you format it, and save it into an eBook format.
Now you're basically an author, because you can publish it right onto Amazon via the Amazon KDP platform. So, if you're someone who is not comfortable being on camera or putting a course together, think about writing an eBook.
Now, typically, the big limitation that I hear from people is not time or the fact that they could write it, it's actually that they don't know how to format it, or they don't know how to create it online, or come up with a cover design.
So to answer those questions pretty quickly, you can type up the entire eBook on Word or on Google Drive, somewhere where you can just type it and then save that text.
And then, once you have that text, once you go to the Amazon KDP platform where you're actually going to do the uploading, they have a software that you can paste that text into and it formats it into an eBook.
Now the last thing you're going to need is a cover for your eBook. And I would simply recommend going to fiverr.com and you can find an ebook cover artist.
The last eBook that I made, I paid $5 for the cover and the cover came out amazing. You can find graphic designers in different countries or regions who work for a smaller amount than you would typically expect to pay for someone to create that level of design.
So your costs involved to write and sell an Amazon KDP eBook are essentially zero. Although you're going to have to pay for your ebook cover, that may only cost you $5. Everything else in this process is totally for free.
You don't have to pay to be on Amazon KDP, and since it's Amazon and they get their own traffic, you don't have to pay for any marketing or advertising.
Now when it comes to earnings potential, I would put this one at low. You're not going to make a crazy amount of income for most people. Writing a book and putting it on Amazon will likely lead to some sales, but I haven't really heard from people who are absolutely crushing it in this business model without doing heavy marketing.
If you have a flair for writing, consider publishing an eBook on Amazon's Kindle Direct Publishing (KDP) platform. You can write and format the book yourself and publish it on Amazon. Earn royalties on each sale and tap into the massive audience of eBook readers. Many authors are making a substantial income through self-publishing.
10. Invest in Online Savings Accounts
I wanted to put a nice easy one at the end here, and this is simply investing in dividend stocks, specifically SPYD. It's a nice general dividend stock.
If you have any money to put in there, you're simply just going to get a dividend paycheck from this. Now, obviously, you're
going to need money upfront in order to invest it to make these returns.
However, if you are someone who has the money, but you just don't wanna invest it in the stock market, because it's too risky, the risk free version of this is investing that money into something like Ally, which is an online savings account that has a high interest rate.
Now currently the interest rate for Ally is somewhere around 3.40%. The good thing here is that the amount of money that you have in your account is guaranteed.
So, essentially, this is just like your savings account at your bank, but since it's online and they don't have to pay for brick and mortar locations, they're willing to pay you a higher interest rate.
Looking for a safe and passive way to make money online? Consider investing in online savings accounts like Ally. With higher interest rates and guaranteed returns, it's a smart way to grow your money. Ally, for example, offers competitive interest rates that can boost your savings significantly.
Make Money Online Conclusion:
From selling clothes online to investing in online savings accounts, there are numerous ways to make money online. Whether you're looking for a side hustle or a full-time business, these proven models can help you achieve your financial goals. Don't be afraid to try new things and explore different avenues. Start today and unlock the potential of online earning!
So, guys, that is the list of all 10 here. If you have any questions about any of these 10, just let me know down in the comments. I'm typically in the comments every single day, trying to help out.